WINNER ANNOUNCEMENT!
Thank you so much to everyone who participated in the Everyday Peace Photo Competition! We received more than 40 pictures and we finally have a winner! The winner is Zina Ismail! Congratulations Zina! Well done. We also want to thank Professor Roland Bleiker (@rbleiker) for his participation as one of the judges. We are planning to have a second contest in the future, so please keep an eye out for the forthcoming competition details.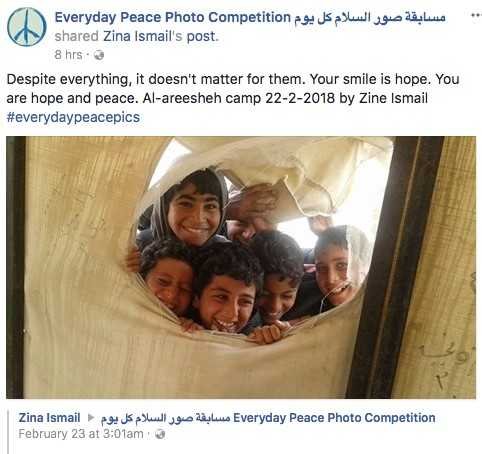 The Everyday Peace Indicators project invites you to post on Facebook, Twitter and Instagram pictures of everyday peace in your own life. These #everydaypeacepics would be scenes from your daily life (home, family, work, commute, college, neighbourhood). The pictures could be of a family scene that indicates serenity, or perhaps – depending on location – a defunct security installation that indicates a post-conflict situation, or anything you use in your daily life to determine that you are more or less at peace. Tag photos with the hashtag #everydaypeacepics so we can see them, and we'll contact the finalists to send us copies of their photos to be posted on everydaypeaceindicators.org (you will retain copyright of your picture and all pictures will be acknowledged).
If you can, please add a description and location of the picture when you post it, explaining why the scene means everyday peace to you. The closing date for pictures is 1 March and the best picture – as judged by the EPI team – will win a copy of Roger Mac Ginty's International Peacebuilding and Local Resistance book and Pamina Firchow's forthcoming Reclaiming Everyday Peace: Local Voices in the Politics of Measurement and Evaluation after War book."
Concurso de fotografía "Paz cotidiana"
El proyecto Indicadores de Paz Cotidiana (Everyday Peace Project – EPI) lo invita a publicar en Facebook, Twitter e Instagram fotografías de paz experimentada cotidianamente en su vida. Estas fotografías #everydaypeacepics pueden ser escenas de su vida diaria (hogar, familia, trabajo, viaje, universidad, vecindario) o de una escena familiar que indique serenidad, o tal vez -dependiendo de la ubicación- una instalación de seguridad abandonada que muestre una situación postconflicto, o cualquier cosa que use en su vida diaria para determinar que está más o menos en paz. Para que podamos ver sus fotografías, por favor etiquételas con el hashtag # everydaypeacepics. Nos pondremos en contacto con los finalistas para solicitarles copias de sus fotos para publicarlas en nuestro sitio web: www.everydaypeaceindicators.org (Note que usted conservará los derechos de autor de su imagen y se reconocerán todas las imágenes).
Si puede, agregue una descripción y ubicación de la imagen cuando la publique, explicando por qué la escena significa paz para usted. La fecha de cierre de las fotos es el 1 de marzo del 2018. La mejor fotografía, según el equipo de EPI, ganará una copia del libro International Peacebuilding and Local Resistance de Roger Mac Ginty y del libro de Pamina Firchow "Reclaiming Everyday Peace: Local Voices in the Politics of Measurement and Evaluation after War book."
العنوان: مسابقة صور "السلام كل يوم"
ملخص الاعلان
يدعوكم مشروع "مؤشرات السلام كل يوم" لنشر صور عن السلام اليومي في حياتكم، وذلك على الفيسبوك و تويتر و إنستيغرام. ستكون #صور.السلام.كل.يوم ( #everydaypeacepics) عن مشاهد من حياتكم اليومية (في المنزل، الأسرة، والعمل، والتنقل، والجامعة، والمدرسة، والحي، الخ.). يمكن لهذه الصور أن تكون مشهدا عائليا يشير إلى الصفاء، أو قد تكون، بحسب موقع إقامتكم، عن واقع أمني مستتب يشير إلى حالة لما بعد الصراع، أو حتى يمكن لها أن تكون أي شيء تقومون به في حياتكم اليومية للاشارة عن أنكم بسلام الى حد ما. ضعو علامة (#everydaypeacepics) لنتمكن من رؤيتها، وسنتواصل مع المتأهلين للتصفيات النهائية لارسال نسخ عن صورهم ليتم نشرها على موقع: everydaypeaceindicators.org . (جميع الصور سيتم الاعتراف بها ولكم كامل حقوق النشر)
يرجى اضافة تعليق أسفل الصورة عن مكانها وشرح لماذا تعني السلام اليومي لكم، ان أمكن. سيتم اغلاق مسابقة الصور بتاريخ 1 آذار / مارس ٢٠١٨، وستفوز أفضل صورة طبقا لحكم فريق مشروع "مؤشرات السلام كل يوم"  بنسخة من كتاب روجر ماجينتي (بناء السلام الدولي والمقاومة المحلية)  ومن كتاب بامينا فيرتشو المنتظر (استعادة السلام كل يوم: الأصوات المحلية في سياسة القياس والتقييم ما بعد الحرب).
Prix de photographie "La paix aux quotidien"
Le projet des Indicateurs de la Paix au Quotiden (EPI) vous invite à publier sur Facebook, Twitter et Instagram des photographies reflétant la paix au sein de votre propre quotidien. Ces #everydaypeacepics sont des scènes de tous les jours (liées à votre chez soi, famille, travail, université, quartier). Elles pourraient par exemple représenter une scène familiale évoquant la sérénité, ou, selon votre emplacement, une ancienne installation de sécurité reflétant un contexte d'après conflit, ou n'importe quel autre indicateur que vous utilisez chaque jour afin de déterminer à quel point vous vous sentez en paix. Taguez vos photos avec le #everydaypeacepics afin que nous puissions les voir. Nous contacterons les finalistes pour obtenir des copies de leur photographie à publier sur le site web everydaypeaceindicators.org (vous conserverez les droits d'auteur sur votre photographie et toutes les photographies seront saluées).
Dans la mesure du possible, merci de bien vouloir ajouter un lieu et une description à vos photographies lorsque vous les publiez, expliquant pourquoi la scène représente votre vision de la paix au quotidien. La date limite pour publier vos photographies est le 1e mars. L'auteur de la meilleure photographie – telle que jugée par l'équipe de l'EPI – gagnera une copie du livre de Roger Mac Ginty, "International Peacebuilding and Local Resistance", ainsi que du prochain livre de Pamina Firchow, "Reclaiming Everyday Peace: Local Voices in the Politics of Measurement and Evaluation after War".